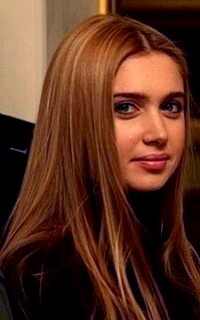 • Enfance/Childhood: I don't have any memory about my life in heaven. The only thing I know is that I was born as any human. I used to have a mother and a father. I know that angels are on earth because they did something wrong in heaven but I don't know what I did. I can't remember it now.
My childhood looks like any other childhood. I was born in an hospital in Moscow in 1995, the third of February. As any angel I am a reincarnation into human. I grew up in a family with a father and a mother. I went to school as every young girl in Russia. I started my school in one and finished it in the same one. Yep, in Russia you do all your scholarship in the same school.
I wasn't a good pupil. I hated school and I hadn't good marks. My teachers didn't like me and they spoke with my parents many times. I knew where was the headmaster's office because I was often asking there, as my little brother. We weren't very calm at school actually.

But my life is not so boring as well. I used to be a child but I am not one anymore. The day of my seventeenth, I knew what I am and what was my destiny. The day began as usual, I was at school, with my teacher ... she gave me a paper I needed to give back then signed by my parents, or one of them. It was a paper for a party at school. When I went back at home, I gave the paper to my mother but she refused to sign it. I was angry because I told her I didn't want to be jobless as my father and she hit me. I went outside and sat on a bench. It was night and it was cold. I met a person: her name was Kira and I knew then she was a demon. She told me to kill my parents and that was exactly what I did, but without any thought. Ok I thought about it when I met her but I didn't want to do it for real ! Though I made it: I killed my parents with a knife, a cooking knife, a big one. And when I recovered, because I was like hypnotized I understood what I did and ran away from my home.

I think you're thinking about I am an angel and I can't kill anybody? This is just some legends. Angels who are on earth aren't good angels and they have to choose good or bad, but once they have chosen they can't really come back. Let's go back to my story. I ran away from my home and went across the city. I was lost and avoided cops' cars. Finally I went into a car park. I sat on a side and some men went to do things with me. That was at this moment Ian appeared in front of me. He fought against those and took me in his arms. That was after that he told me who I was: an angel.

Yes I was an angel but as every angel on earth I could choose my way. I could choose god or evil. At this time my wings were style hidden, I didn't know I had wings. Ian gave me a book this day. This book was magic and gave me some clue to help me to find people who needed my help. This day, I became his student and his partner too. He became my friend and my confident. Everything was beautiful with him ... but that was just some mirages. In the foreground, some demons started a new plan. They wanted me to become an bad angel, as them, as demons. To do that thing, they demanded to a young man to seduce me. His name was Den. Den used to be an angel but he wasn't anymore. He used to study with me in my classmate. I felt in love with him, but after a while I recognized his dark soul and we became foes. His mission failed and I became a new angel. I chose my way and this way was good. If I recovered my wings, I need to do my best now and show that I am a good angel.

• Famille/Familly: Romanova in not my real name. Indeed, my real name is Averina. But Macha is my real surname, if you count it as a nickname. You know in Russia, nobody calls you with your surname, even at school. Actually my real surname, full surname is Maria but the nickname, or short name I don't know how you call it in Great Britain, of Maria is Macha, that's why it is my name. I know it is difficult to follow. So, I was born in a human family. My mother's name is Elena and my father's name is Vadim. They are married even though they past a difficult period because a demon wanted them to be separated. They had some plan for my mother but they didn't totally succeeded because my parents are still married. My mother brought to forth a new baby before I left Moscow. I don't really think they are saved because I know that they are demons who still want some things from them. I am not too afraid about that because Ian has a friend who take care of them, an angel too: Mikhail. My mother is a nurse in an hospital in Moscow and my father is a drawer and he has got some talent. I have a little brother, Sacha that I love calling Sach'. He is younger than me but not too. He has some doubt about me and why I often disappeared when I was in Moscow. He went with me once but with the help of Ian we could vanish his memories about this part of his life.  

• Vie actuelle/Nowadays: We are not in security in Moscow anymore with Ian. We need to ran away from the city. This is my fault actually, because I went back with Den before letting him alone and finally think that I was in a better way with my partner Ian. Now that I have got my wings back, Agnès, Félix, Kira, Margot and Den want me to be dead with Ian. But Ian there are centuries they want his death so nothing new from this side. Ian and I are now arriving here. We are here incognito and don't know anybody normally.

• Comment avez-vous connu l'hôtel Miracle?/How did you know the Miracle Hotel?: We heard a conversation about this hotel in a bar in Moscow. This was a young woman with his father. He wanted her to come here to be safe. So after a discussion with Ian we decided to come here too. We expect that there is no demon here and we would live our life without any trouble.